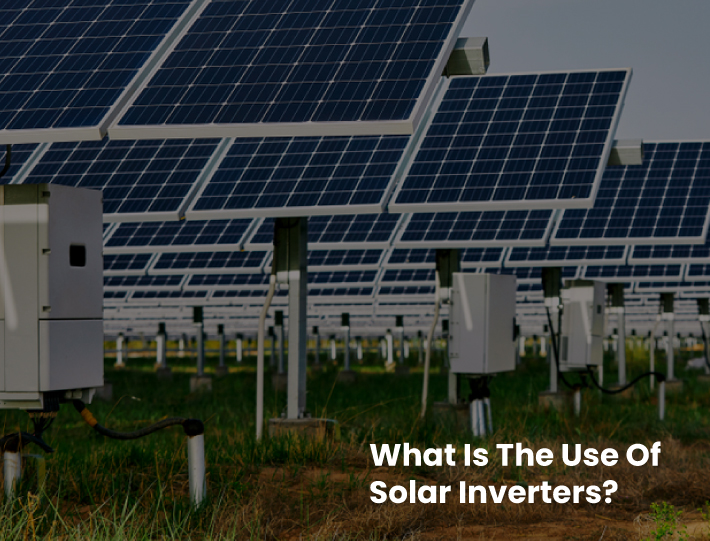 What Is The Use Of Solar Inverters?
Solar inverters, sometimes referred to as photovoltaic inverters, are critical components of a solar energy system. They are frequently referred to as the brains of a project. Solar panel inverter installations are advantageous for converting direct current to alternating current. Direct current is energy that travels in a single direction across a circuit and aids in supplying current in the absence of electricity. What is the purpose of a solar inverter? The following is an overview of what a solar inverter is and how it works.
So, what does an inverter actually do? PVEL's analysis suggested five critical job functions for solar inverters.
1. Convert DC electricity to alternating current power
An investor's primary role is to convert the direct current (DC) energy generated by solar inverter installation to alternating current (AC) energy that may be used in homes and businesses or immediately put into the grid in front-of-the-meter installations (utility-scale solar arrays).
2. Optimize output power
According to PVEL, inverters are responsible for continuously monitoring the solar array's voltage in order to determine the maximum power at which the modules can function. If shading happens due to environmental causes or if modules deteriorate, the inverter may recognise the incorrect peak in the string, lowering the system's overall energy production.
3. Grid interface
Smart inverters, the next generation of solar panel inverter installation, have evolved from one-way to two-way communication with the grid, aiding in grid support activities. Advanced software enables smart inverters to handle grid-supporting functions like voltage, frequency, communications, and control.
The capacity of smart inverters to ride out minor disruptions is one of its most critical grid help skills (for example, voltage changes). Intelligent inverters can enter standby mode in the event of a voltage change, monitor the duration of the disturbance, and then power off only if the disturbance lasts too long. This minimises voltage swings on the grid caused by dispersed resources completely shutting down and ceasing power generation. Learn everything there is to know about smart inverters here.
4. Electricity production report
Inverters enable solar owners to monitor their solar systems' electricity production. According to PVEL, the majority of inverters support connectivity through hardwired ethernet, Bluetooth, or Wi-Fi. This communication link may expose inverters to cyberattacks, but scientists are investigating ways to limit this danger. More information regarding inverter cybersecurity may be found here.
Solar owners may monitor trouble codes, diagnostics, and power output data from their inverters on their PCs or via specialised smartphone applications. Additionally, large-scale solar inverter installation owners may choose to invest in advanced monitoring services to assist in diagnosing and resolving difficulties with multi-inverter arrays via a third-party vendor.
5. Ensure the system operates safely
According to PVEL, inverters are supposed to shut down in the case of an electrical arc, which can occur as a result of system age and material deterioration. They are intended to detect these arcs, but PVEL discovered that not all inverters are effective at doing so.
Due to the high number of electrical components and multiple functions performed by inverters, they are more likely to fail than any other component of a photovoltaic system, according to PVEL. String and central inverters each have their advantages and disadvantages, however string inverters are more easily serviced when a breakdown occurs.