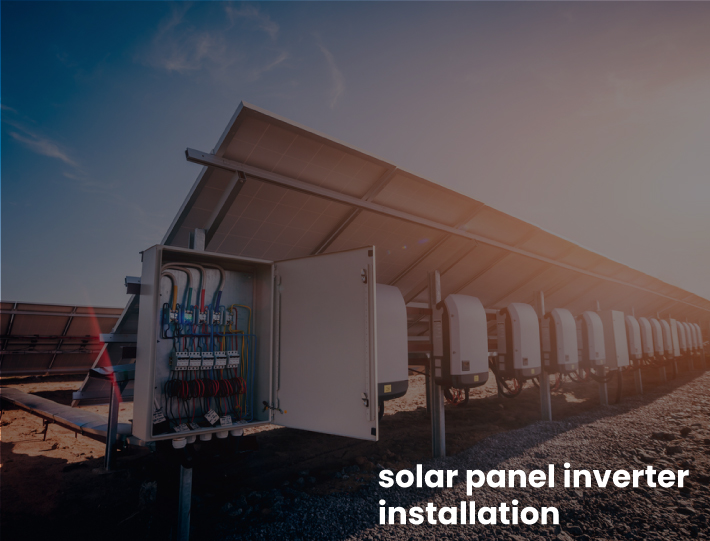 Solar Inverter Installation: Everything You Need to Know
For those who are looking for an eco-friendly way to power their home, solar inverter installation with Solar System installation is a great option. A solar panel inverter installation will help to make the power supply of a building more sustainable by providing an alternative to traditional power sources. With a solar inverter, homeowners and commercial buildings can harness the power of the sun and convert it into electricity for their power supply.
This electricity can be used to power all of the appliances in the home, or it can be used to charge batteries for future use. With the help of a solar inverter installation, users can save money on their electric bills and help reduce their carbon footprint. This inverter will help you avoid expensive power bills and can even be used as a backup power source in case of an emergency.
A solar panel inverter installation is a process that begins with determining the location of the inverter. To install a solar panel inverter, the first step is to determine the location of the inverter. Typically, inverters are installed in a garage or a shed, as they are typically outdoor devices. Once the location is determined, the inverter is mounted to the roof or wall and connected to the electrical system.
In a solar panel inverter installation, The inverter is connected to the solar panels through a set of wires. The inverter is the part of the solar system that converts the direct current (DC) from the solar panels to alternating current (AC) for use in your home.
Once the inverter is connected to the electrical system after solar inverter installation it can be turned on and ready to start producing power.
Types of solar panel inverters
Solar inverters come in a few varieties like:
String inverters
These solar panel inverters are commonly used in residential and commercial buildings for solar panel inverter installation. These inverters treat a series of panels as a single large panel i.e these are in serial connection. The downside of these inverters is that the fault in a single panel will reflect on the entire connection. These string inverters are usually the most affordable type and this makes them popular among many inverter buyers.
Microinverters
This type of inverter is installed close to a solar panel itself. This inverter allows each individual panel to function as a separate panel thereby preventing the problem of full solar system failure when one panel fails. This inverter provides safe and easy installation. Many solar panel providers install microinverters to the solar system panel itself. These are the most expensive inverters and they require regular maintenance.
Central inverters
Central inverters function as combined string inverters. These inverters are highly efficient and provide ease of installation. These are affordable inverters, and their cost falls between one of the string inverters and microinverters. Central inverters are big in size and are a bit noisy. Central inverters act like string inverters and if one part of the solar system malfunctions, the whole system may get compromised.
Types of Solar Panel Inverter Installation
When it comes to different systems, there are also three basic types:
Stand-alone system
The stand-alone solar panel inverter installation helps to use backup power when the main grid goes down. This type of solar panel inverter installation has a large box that can be installed in a building which can be a garage or shed. This system has mechanical rotors to convert DC into AC. Most commonly, these solar panel inverters are connected to the battery itself.
Grid-tie system
A grid-tie system solar panel inverter installation system allows the connection of solar panels directly to the electrical grid. This type of system helps in selling all the excess power manage back to the utility providers. The downside of this solar panel inverter installation system is that it doesn't contain a battery so in case of a power outage there won't be a power backup to power a building.
Hybrid system
This type of solar panel inverter installation system is the most expensive as they offer the benefits of both a Stand-alone system and a Grid-tie system. This is a quite functional and efficient system and it is commonly used in large commercial settings, due to its high price.
Conclusion
The solar system inverter is the heart of the solar system and needs to be installed by a licensed solar system installation service. solar panel inverter installation will help in an uninterrupted and cost-effective power supply.