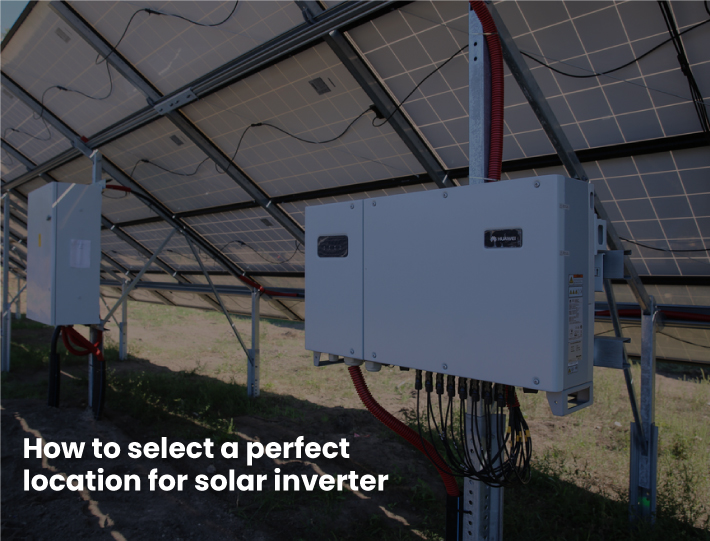 How to Select a Perfect Location for Solar Inverter
Solar energy is gaining popularity at a breakneck pace. It is clean and renewable energy. It is completely free; all that is required is the installation of a solar panel system. The solar panel system has many components. We're talking about solar batteries right now, so it's crucial to take care of them and make sure they're in the right place. There are a few things to think about when deciding where to put a solar battery.
Before you do anything, make sure you have a good plan in place. If you're planning to buy something valuable, you should do your homework. You may become perplexed if you go to a market to buy anything and notice things from many brands. You may end yourself buying something you didn't want. As a result, before purchasing something, you should carefully analyze all factors. We now live in a time where renewable energy is readily available and getting more inexpensive.
When it comes to solar batteries, there are several factors to consider before making a purchase. Do you want to save money while getting the best batteries? So, we've put up a guide to assist you in selecting the ideal battery and locating it in a convenient location.
FACTORS TO CONSIDER WHEN SELECTING A SOLAR BATTERY LOCATION
Avoid common mistakes to extend the life of your battery. Because when you buy something, you just have one thing in your hands: care. So, if you want to be sure your batteries are performing at their best, consider the following:
● VENTILATION AND BREATHING
Solar batteries should be stored in a well-ventilated space away from direct sunlight; a shady area is preferable. It's best to keep them in a dry, cool environment with little variation in temperature and humidity. Keep them away from heat sources; in other words, keep them at ambient temperature. Even bright sunshine is harmful to your batteries.
● ACCESSIBILITY
Keep the batteries in a convenient location where you can readily access them. You may need to clear dirt or maintain them on occasion. There will come a moment when you must replace them. It will be easy to solar inverter installation or replace some of the components this way.
● CARE AND PROTECTION
High temperatures should be avoided when using batteries. Batteries are usually fairly safe, however, they should not be left uncharged for an extended period. When the batteries are of poor quality, problems arise. With the assistance of a brush, clean the battery terminals with a combination of baking soda and water. In the batteries, there should be an indication that will alert you if there is a problem.
● BATTERY REPLACEMENT:
It's important to remember that when you replace batteries, you should replace all of them since old batteries might impact the performance of fresher batteries. It is not a good idea to mix old and fresh batteries. Because it has a negative influence on the performance of modern batteries. It is not always the greatest choice to install a battery storage system inside your house or company. When your old batteries reach the end of their useful life, you should replace them.
● ROOF
Almost every roof is suitable for the solar inverter installation of a lar panel, while there are certain roofs of varying proportions that require additional investment. One of the most crucial factors to consider is the type of roof.
● INSTALLER
It is usually preferable to get your task completed by an expert. If you know someone in the area, that's OK, but if you don't, try to find someone with expertise because they're one of the most important parts of a solar panel system. As a result, it is suggested that the solar panel inverter installation be done by a licensed electrician.
How to Select a Perfect Location for a Solar Inverter
Solar inverters, which convert DC (direct current) from solar panels into AC (alternating current), are key components of solar energy systems. What's even more important than installing them is selecting an ideal location for solar panel inverter installation that allows your array to generate as much power as possible. There are several factors you must take into account when making your decision, including Solar and Satellite Information—Solar panels must be tilted at an angle equal to or greater than their latitude minus 10 degrees.
Conclusion
Solar inverters will be installed in any location, but if you have your heart set on a specific spot, it's important to know where they can go. There are lots of factors that go into deciding on an ideal location: whether it's shaded, at or away from an electrical panel, and much more. Take these considerations into account before you decide on where to install solar inverters.