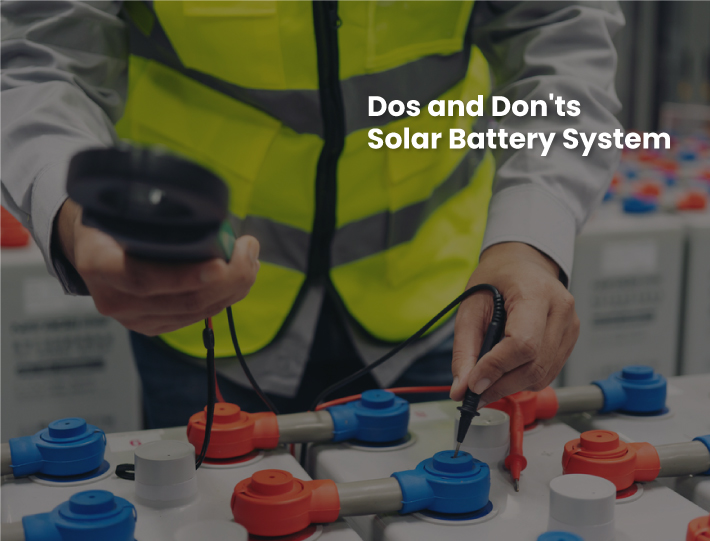 Solar Battery System: Do's and Don'ts
A solar battery system can be expensive to install, but the payback period is often less than ten years. A solar battery system is a power system that uses photovoltaic panels to convert sunlight into electricity and store it in batteries. A solar battery system is a great option for homeowners who want to have power during a power outage or for off-grid homes. Solar battery systems are also a great way to cut down on your electric bill and produce less greenhouse gas emissions.
Solar panel installation may appear to be simple — you select the Best Solar Battery System in Australia by a solar system installation company that also provides Solar Battery Solutions, get a price, install the panels, and then sit back and enjoy your free electricity. However, you must adhere to a few simple recommendations in order to get the most out of your solar battery.
In this article, we'll talk about the do's and don'ts of solar battery systems.We've compiled a list of Do's and Don'ts that include everything from installation to solar panel maintenance.
Solar Battery Solutions Do's:
1. BATTERIES SHOULD BE CLEANED
Battery terminals should be cleaned on a regular basis with a battery terminal cleaner brush and a mixture of baking soda and distilled water. After that, clean the terminals with water, double-check for tight connections, and cover the metal components with a commercial sealer or a high-temperature grease. Before cleaning, be sure to remove the clamps (negative first).
2. KEEP THEM CHARGED
The batteries must be kept fully charged at all times. If you leave your battery alone, it will gradually lose its charge. Trickle charging is the charging option that keeps your batteries charged.
3. BATTERIES CAN BE HAZARDOUS
When you're near your battery bank, take the necessary safety precautions. Remove all metal objects with strong gloves and protective glasses. The last thing you want is to be electrocuted or burned by acid. Make sure you have baking soda and water near the batteries in case there is an acid leak. The acid can be neutralised with these.
Solar Battery Solutions Don'ts:
1. DON'T MIX
When replacing old batteries, keep in mind that 'mixing' old and new can affect the performance of your batteries. When old and new batteries are used together, the newer batteries quickly degrade to the same level of quality as the older ones. As a result, combining old and new batteries is a waste of money. To avoid this, make sure your batteries are well-maintained and have a long life expectancy.
2. DON'T OVERFILL
Examine the interior of your battery cap. So that no metal lead surfaces are visible, distilled water should be introduced to the cells. The electrolyte level should be indicated by a "fill line" on most batteries. The maximum fluid level is about 1/2" below the top of the cap. You don't want your batteries to spill if you overfill them!
3. DON'T LET SULFATION OCCUR
Sulfation, a process in which sulphur crystals grow on the battery's lead plates and impede chemical reactions, is responsible for about 80% of failures. When the battery's charge or electrolyte level is low, sulfation happens. Because of the hazards of sulfation, it's critical to keep an eye on these two parameters in flooded batteries. You'll need distilled water, a digital voltmeter, a temperature compensating hydrometer, and the appropriate safety equipment to do this.
How tO Safely Use Batteries
Lead-acid batteries create hydrogen, which is combustible in the presence of oxygen. In truth, the upper stages of Saturn V rockets used hydrogen and oxygen as fuel. Connect the box to the outdoors using vent pipes and make sure the system is thoroughly vented to avoid rocket fuel from building up in your battery bank. Fans are also used in some systems to help exhaust the vapours.
If you have a battery backup system that starts only when there is a power outage, it must continue to function after months, if not years, of inactivity. The batteries must be kept completely charged to ensure that it will work. If you leave your battery alone, it will gradually lose its charge. Trickle charging is the charging option that keeps your batteries charged. To take care of a backup battery bank, it's ideal to acquire low-maintenance batteries that can be trickle charged using a tiny solar panel or other power source. Solar batteries can last up to 8 years if properly installed.
Conclusion
Using Best Solar Battery System Australia provided by trusted Solar Battery Solutions will surely help you in getting solar power for long with regular care and maintenance.