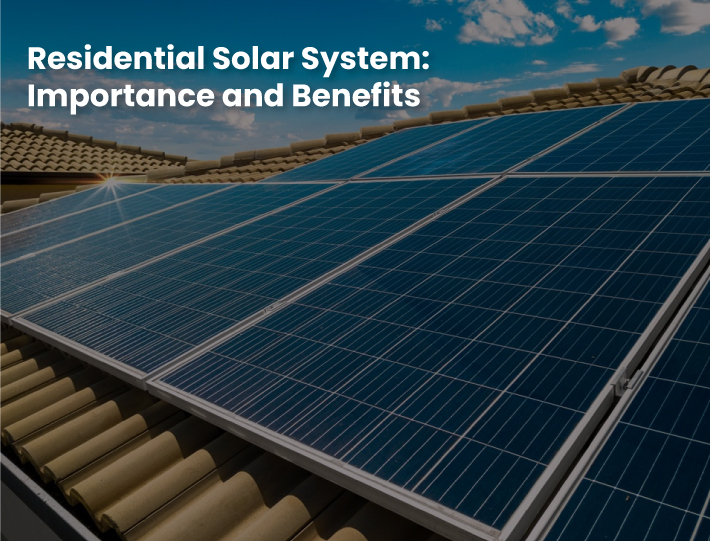 Residential Solar System: Importance and Benefits
Are you fed up with the elevated electricity bills and unpredictable power supply? If you're nodding your head to say yes, then you've landed at the right place. High electricity bills make you feel restricted while using the electricity. This is where a residential solar power system comes into the picture. It can power up your AC, heater, TV, electrical appliances and much more, giving you the freedom to use the electricity without much hassle or stress. Now the future is moving to solar power systems because of the innumerable benefits it offers. Check out the importance as well as benefits associated with using a solar system for home.
1. Saves Bucks Of Money
One of the best things about installing residential solar systems is that it can help you save a lot of money. By the adequate installation of solar systems, you can effectively save 95% of electricity costs. Thus, helping you to gain financial monthly stability. With the help of sun rays, you can easily generate electricity and help your pocket get relief from the hefty electricity bills.
2. Adds Value To Your Property
Another benefit of including a solar system in your home is that it can highly contribute to the value of your home. For instance, if you're looking to sell your house in the near future, real estate agents can market your home more effectively. Thus, giving you a good resale value of money. As per a recent stat, a home equipped with a solar panel saw around a 3-4% elevation in home value.
3. Decreased Dependency On Grids
Want to achieve total independence from the centralized grids? If yes, residential solar systems are your best bet. Installing a solar system in your home will help you to curtail your dependency on centralized grids. You can easily manage your electricity requirements even when there is an inconsistent supply from the main grids. Additionally, it is an investment that makes your future proof from the fluctuating power supplies. Thus, helping you to achieve total energy independence.
4. Good For Environment
Being a clean, renewable and good for the environment approach, solar systems are the perfect way that will help you to do good for the environment. Additionally, it doesn't make the environment polluted, making it the optimum choice for every home and office use. If you're looking to get a step ahead in protecting the environment, solar power systems will serve you with the best possible results.
One Last Thing
Lastly, residential solar systems will not only help you save on electricity bills but also help you in the long run. It is good and easy to maintain, lasting for around 25 years. Being a one-time investment, the solar system lasts for a lifetime. Make sure you call an expert company that will help you in installing and maintaining your solar panel without any hassle. Invest in the solar panel today and make your home a better place to live in. One thing to remember is that you need to call a professional company when dealing with solar power systems.