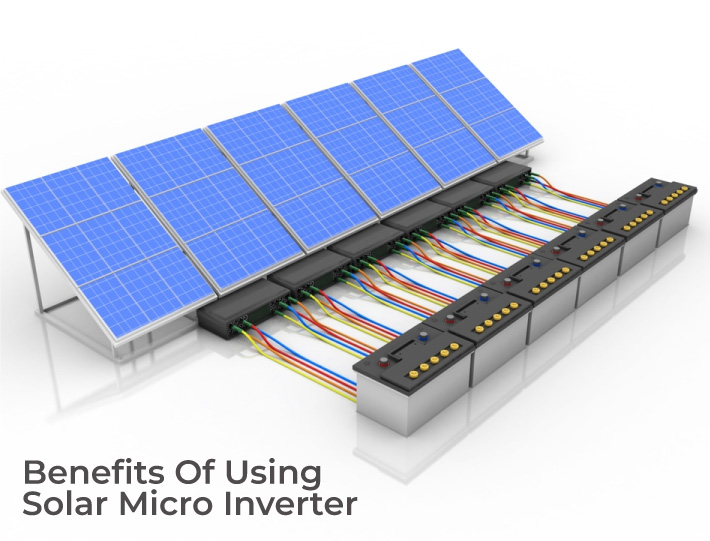 Benefits Of Using Solar Micro Inverter
Learn how our Microinverter may increase solar panels' efficiency.
How does Micro Inverter Solar System work?
Direct current (DC) produced by a single solar panel is converted to alternating current (AC) by microinverters (AC). As a result, each solar panel is electrically isolated from the others, meaning that any damage to or even complete failure of one solar panel won't influence the output of the others.
However, conventional string solar inverters rely on a single inverter that is connected to numerous solar panels, therefore damage to one module causes the effectiveness of the others to be diminished or causes them to fail altogether.
Then, microinverters seem awesome. In addition to maximising efficiency, they also provide numerous advantages in terms of safety, increased energy production, system monitoring, and increased dependability and convenience. Continue reading to learn more about the benefits of the current microinverter and how it differs from its forerunner.
Solar Microinverter Safety
Best Solar Micro Inverter don't require high-voltage DC to go across the roof as string inverters do. Instead, a less hazardous 30V DC flows from each panel into the microinverter and is then transformed into AC electricity on the roof. This reduces the string inverter's high voltages (600V+), which makes the microinverter system safer for property owners.
In an emergency, micro inverters can also shut down quickly to stop a fire from starting. Microinverters will shut down in 100 milliseconds, which is 100 times faster than the safety code demands when there is no AC present. Compared to traditional string inverters, there are a lot fewer dangers due to the placement of the microinverter underneath the modules and the low overall voltage.
Increased Energy Production
Solar PV panels can be connected in parallel so that each one can work separately thanks to the design of microinverters. Therefore, the system as a whole is not affected by the effects of shading, soiling, or full failure on one. As a result, up to 30% more power is produced than with conventional inverter technologies, ensuring that the maximum amount of electricity per panel is always realised.
In the past, microinverters often only featured one connector, allowing for the connection of a single panel. This has a significant impact on the system prices because it means you need as many microinverters as you do panels. The same production advantages are now available with new twin and quad port microinverters, but they also offer multiple Maximum Power Point Tracking (MPPT) connections, allowing you to connect up to four panels to one microinverter.
The sun's rays will be unevenly dispersed throughout the entire solar PV system when it is designed to be installed on complicated or multidirectional rooftops. With string inverters, energy harvesting would drastically drop because each panel couldn't operate to its full potential with only one MPPT. Each panel will be able to regulate its voltage thanks to microinverters, ensuring that it is producing the most power feasible.
System Surveillance.
Instead of monitoring all solar modules together, a Micro Solar System Inverters does so (as a string system would). As a result, maintenance and troubleshooting are easier because the user can view the output and uptime of any module using an online interface. Because of the precision that Micro Solar System Inverters provide, any problem with a specific module may be quickly found and resolved. With a string inverter system, this project would be considerably more challenging.
Convenience and Dependability.
In contrast to the interdependent modules in a string system, where a failure would affect the entire group of panels, the structure of isolated solar modules in a microinverter system offers greater dependability.
Additionally, system information is transmitted more reliably. While microinverters produce a "mesh" network in which performance data is continually transmitted to the controller even if one unit fails, string inverters stop sending information if the system fails.
Low-cost microinverters are used. Due to the ability to buy and regulate each panel separately, there is no significant commitment. These are a practical choice for people who work from home because they can be used for basic tasks like charging your laptop and have the potential for development in the future. A 25-year warranty is also included with microinverters, as opposed to the normal 10-year warranty for string inverters.
Conclusion
It is impossible to ignore the advantages of Micro Inverter Solar System. Compared to string inverters, Solar Microinverter is more reliable and convenient, and they maximise efficiency, safety, energy harvesting, and system monitoring. At iGreen Energy, a complete selection of acclaimed Best Solar Micro Inverter products may be found. Contact for more Information.