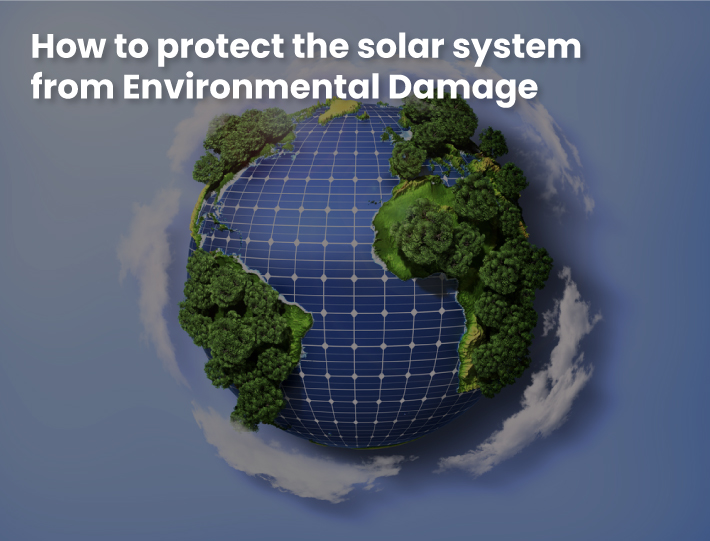 How to protect the solar system from Environmental Damage
For those who want to reduce their carbon footprint but still enjoy the benefits of modern technology, residential solar power systems are an ideal choice. However, these systems have the potential to cause environmental damage if they aren't properly maintained and disposed of after they're no longer in use. Fortunately, there are steps you can take to protect your residential solar system from environmental damage as well as to protect the environment itself by properly disposing of your system when you no longer need it. Take a look at these steps you can take now to protect your solar system and keep our planet healthy in the long run.
Why should you care Solar Panels?
As you are investing in a new solar system for your home or business, there are a few things that can go wrong. The way a residential solar system is installed and maintained will determine if it provides years of clean energy, or leaves you with extra costs down the road. Many people don't realize that even taking proper care of their roof won't prevent damage to their panels. There are ways to protect your investment, but you need to know what they are so that you can take proper precautions.
Should you go off-grid?
If you're on-grid, i.e., connected to your utility, you can rely on your local solar power company for backup if your solar system malfunctions or inclement weather threatens your panels. Off-grid homeowners have no such luxury: They must store their excess power in batteries that eventually wear out and need replacing (typically after 10 years). When they fail, off-grid homeowners are often left without a reliable source of energy until new batteries are purchased.
Alternative energy options
As commercial solar power grows in popularity, more homeowners are choosing to install solar panels. There are many benefits that come along with such a decision. But there's also one big problem; commercial solar panels can be damaged by environmental factors such as wind, rain, and snow. Fortunately, there are plenty of ways you can protect your system from these forces.
Renewable energy sources
Knowing how and where to install renewable commercial solar powers is as important as installing them. It's also important for homeowners, business owners, and solar panel manufacturers alike. If you have a residential solar system in your home or business, make sure you know what's in your area that could potentially threaten it. Look up information about nearby power lines and pipelines that run through your neighborhood before installing any photovoltaic cells or panels.
Energy storage technology
Energy storage is a key component of residential solar power systems. The problem with harnessing solar energy is that it's a direct current, which means it cannot be stored for later use as an alternating current. Energy storage allows you to capture electricity when sunlight is plentiful and use it at night or on overcast days. There are several types of energy storage technology available, including batteries, capacitors, flywheels, and compressed air.
Energy efficiency improvements
You can continue running your commercial solar panels without major problems. However, if you notice that your panels are producing less power than they used to or seem to be damaged in any way, it's probably time for a little TLC. The better shape they're in, after all, the more power you get out of them!
Conclusion
If you have an old residential solar power system, you should check it for any environmental damage. If your commercial solar panels are covered in mold, then you should immediately seek help from a professional cleaning service. At least once per year, make sure to inspect your solar panels and ensure that they aren't damaged by rain, sunlight, or other elements. In addition to mold removal services, you can also contract with a company that specializes in solar panel cleaning and maintenance.