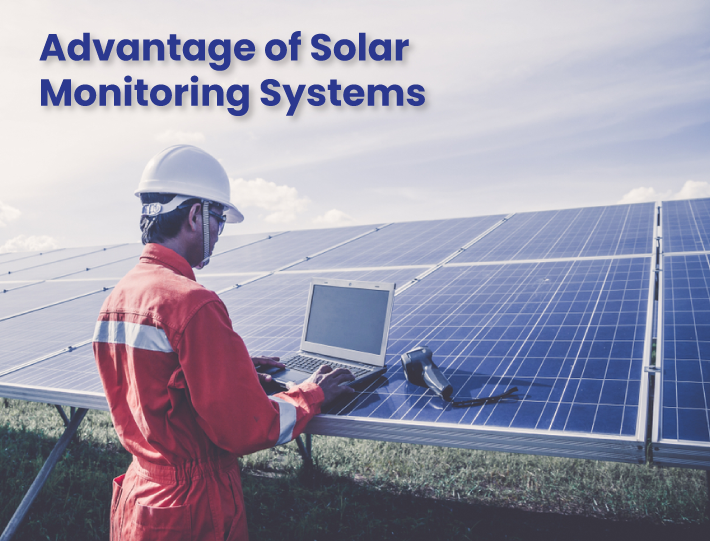 Advantage of Solar Monitoring Systems
Installing a solar energy system alone is not enough; the user should be able to know how efficiently the solar system is running. Users can gain the best knowledge about solar system efficiency and power generation through the best solar monitoring system. Many installation companies install monitoring software in place and connect the software to the system's inverters, through which the direct current which the solar panels produce gets converted into alternating current(AC), which we can use for domestic supply. The user is able to access the data of the solar monitoring systems through mobile apps.
GET IN-DEPTH DATA ON HOW THE SOLAR SYSTEM IS WORKING
Solar system monitoring provide data of many things like:
1. How much solar power your system is producing.
2. How each inverter and panel perform to help you determine if any inverters need maintenance or if the solar productivity of the panels can be increased.
3. The solar monitoring systems also keeps the data updated to let us know how the system has been performing in real-time.
For example, monitoring systems can be customised to acquire data at every 15-minute interval to report the status of power generation to us.
4. Solar system monitoring also helps us keep a close eye on the solar energy system and let us know that the solar system is operating as efficiently as possible, and helps us avoid accidents.
Stay updated with timely Emails Alerts
Solar monitoring systems come with email alerts to keep users updated when the solar system is having any problems. This helps in going for maintenance to prevent any mishaps and avoid any situation which can become dangerous enough to affect the entire system. These email alerts give us time to do preventive care performed on the solar system and prevent it from shutting down and avoid any downtime. Email alerts help keep the solar system running smoothly.
Accessibility Anywhere
Many monitoring systems come with mobile apps that enable customers to access data about solar system power generation from mobile devices. With data and reports available on the mobile device, customers can quickly check on the solar system's performance. The use of solar system monitoring apps shows that monitoring systems are technologically advanced and help consumers checking on the energy production of solar panels and inverters health status.
By Helping Usage of Electricity as It is Generated
One great advantage of having solar panels linked to a monitoring system is that it enables the user to see exactly when to turn on high load home appliances like heating appliances, washing machines, and dryers. This gives users the ability to use the solar power generated more efficiently, instead of having to use electricity from the grid and having to pay for it later.
TO SUMMARIZE, A SOLAR SYSTEM MONITORING SYSTEM HELPS TO
1.Detect problems in real-time in the solar home systems as they occur by sending an alert when the solar system's performance is decreasing.
2.Track the amount of electricity used.
3. Calculate and Measure the amount of electricity saved.
4. Calculate and measure carbon reduction.
5. Help in increase performance of the solar system and invertors
6. Ensure regular maintenance of the solar system.
7. Increase efficiency, the durability of the solar system, thereby making it cost-effective.