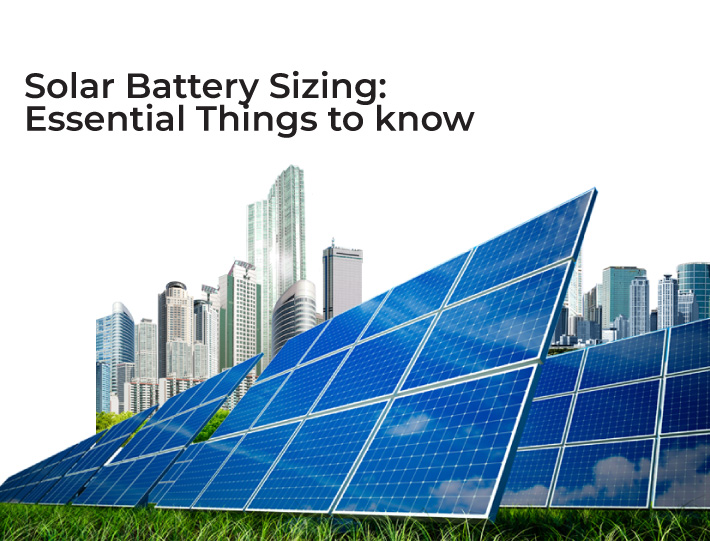 Solar Battery Sizing: Essential Things to know
We frequently get inquiries from clients about the Solar Battery Sizing they require. While there are a few things to understand about solar batteries, iGreen Energy's mission is to simplify solar, and we can do the same for solar batteries. Here are some factors to consider for Battery Sizing For Solar System for your solar array in the event that the grid goes down.
Battery Sizing For Solar PV System for an off-grid or hybrid PV array installation can be challenging, and research frequently yields more problems than solutions. A battery has a number of specifications, and understanding their definitions and ratings may bring back memories of calculus in college. Fortunately, there is a method for figuring out what size battery your solar system needs.
Things To Consider About Battery Sizing For Solar System
1. Find Out Consumption
Find out how many kilowatt hours (kWh) of power you use each day. A utility power bill, which should include the average daily kWh used for the most recent billing cycle, is the easiest way to achieve this. The daily average for the most recent 12 months is displayed in several statements.
2. Consider the Depth of Discharge
Next, to know Solar Panel Battery Size you should make room for the depth-of-discharge (DoD) that the battery's manufacturer has advised. Lithium batteries are commonly rated for 80% DoD, whereas different lead-acid batteries are rated for 50% to 80% DoD. A constant charge and longer battery life are achieved by keeping some of the batteries in reserve.
For instance, if the battery has 80% DoD and you need 10 kWh per day, you should seek for a 12 kWh battery.
3. Consider Local Average Temperatures
In order to account for chilly temperatures, you might also need to oversize the battery. This can be anything between 10% and 40% in regions with harsh winters. Try this strategy while using the daily example of 10 kWh: 10.2 kWh times 1.2 (80% DoD) equals 12.2 kWh times 1.4 (cold temperature adjustment) equals 16.8 kWh. Now, just double the kWh by the appropriate number of days if you want to store battery power for more than one day.
The batteries at iGreen Energy are rated by kWh to make comparisons simpler. However, certain batteries may be rated according to their Volts and Amp hours (Ah) (V). To compute Watts, simply multiply Amp by Volts. A 200 Amp hour battery, for instance, generates 2,400 watts, or 2.4 kWh, at 12 Volts.
Conclusion
Battery Sizing For Solar Pv System might be challenging, but it can be quite lucrative for individuals who wish to entirely cut off from the grid or store energy for the night. Contact a Technician at iGreen Energy if you have any issues or need assistance in choosing the right Solar Panel Battery Size for your battery bank, and we will be pleased to help to in Solar Battery Sizing.