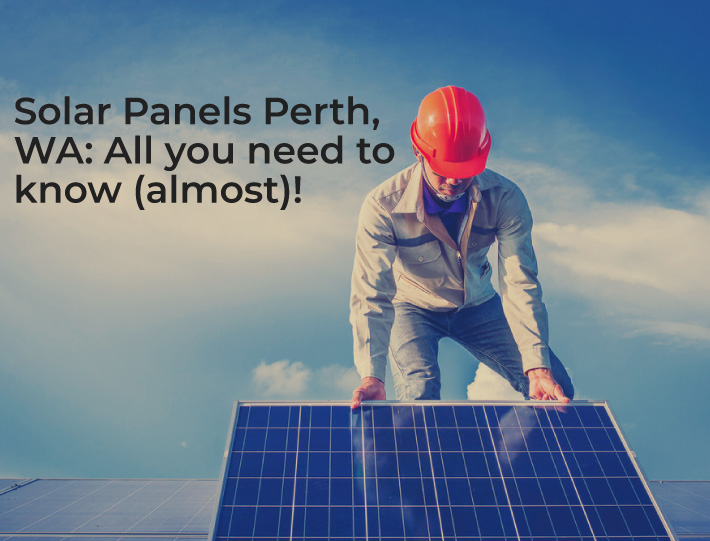 Solar Panels Perth, WA: All you need to know (almost)!
Solar panels are a popular option for generating electricity in Perth, Western Australia, due to the region's high levels of sunshine. Sunlight is converted by solar panels into electricity, which can be used to power buildings and residences. When making plans to purchase a solar system in Perth, you should focus on the best solar panels and experienced installation services. It is always a good idea to do your own research and due diligence before choosing a solar panel provider.
Points to consider before going for Solar Panel Installation Perth
Many home-buyers are deciding to install Solar Systems Perth due to the rising cost of power and their desire to employ better energy choices (solar panels). Some customers have complained about subpar products, failing businesses, and aggressive sales techniques.
It's crucial to conduct research before signing a contract with a Solar Installer Perth. It is vital to know what you are buying, where it is coming from, and why those particular solar panels were chosen.
Solar panel information is plentiful, which might be perplexing.
You should ask yourself the following questions in particular before going for Solar Systems Perth :
Are solar panels a good fit for your requirements?
You can choose the best solar panels for your needs by answering these questions.
What led you to get solar panels, primarily?
• Lower your carbon footprint and your electricity costs
When do you consume electricity most frequently?
Throughout the day, at night, or on weekends.
How well-versed are you in your roof?
• pitch; orientation and shading; kinds of roof, such as tin, tile, or concrete
What will the price of Solar System Installation Perth be?
the price of the panels and inverter; the expense of solar system installation; and the roof's accessibility
Do you qualify for any discounts?
•https://www.wa.gov.au/service/community-services/grants-and-subsidies/apply-energy-concession
•https://www.cleanenergyregulator.gov.au/RET/About-the-Renewable-Energy-Target/How-the-scheme-works/Small-scale-Renewable-Energy-Scheme
•https://www.wa.gov.au/organisation/energy-policy-wa/household-renewable-energy-overview
How do I pick a Best Solar Panels Perth retailer or Solar Installer Perth?
• Pick a merchant that has received the stamp of approval from Australia's Clean Energy Council.
• Request many estimates from installers who have been approved by the Clean Energy Council of Australia.
• As part of the price request process, request a roof inspection.
• Be sure to account for site upgrades and preparation (for example extra wiring, and roof restoration).
• Seek out recommendations from others and read internet reviews.
• Verify the licensing of electricians
What more should you know?
• Before installation, examine your past electricity bills to determine how much power you consume.
• Think about whether you require battery storage. Consumers can refer to a user manual from the Clean Energy Council of Australia.
Before you sign anything, read the contract carefully. If you have any questions, ask for clarification.
• Think about product warranties (for inverters, panels, etc.).
• Find out if you qualify for a Small-Scale Technology Certificate (STC).
There are a few things to consider when it comes to installing Best Solar Panels Perth:
Solar panel efficiency: The efficiency of solar panels can vary, with some panels able to convert more sunlight into electricity than others. It is important to consider the efficiency of the panels you are considering in order to maximize your energy production.
Solar panel size: The size of the solar panel system you need will depend on your energy needs and the size of your property. It is important to calculate your energy usage and determine the size of the solar panel system that is right for you.
Solar Panel Installation Perth: It is essential to hire a reputable and qualified solar panel installer to ensure that your solar panel system is installed correctly and safely.
Solar panel maintenance: Solar panels require minimal maintenance, but it is important to keep them clean and ensure that they are functioning properly.
Solar panel financing: There are a number of financing options available for solar panel installations, including loans, leases, and power purchase agreements. It is worth exploring these options to find the one that is right for you.
Where to get the Best Solar Panels Perth?
iGreen Energy is a company that provides solar panel systems in Perth, Western Australia. Some factors to consider when selecting a solar panel provider include:
Reputation: Look for a Solar Installer Perth with a good industry reputation and satisfied customers.
Quality of products: Choose a company that uses high-quality solar panels and other equipment.
Installation services: Make sure the company offers professional installation services to ensure that your solar panel system is installed correctly and safely.
Customer service: Look for a company with good customer service, as you may need to contact them for support or maintenance.
It is also a good idea to compare prices and packages from multiple solar panel providers to find the best deal for your needs.
Conclusion
Installing solar panels in Perth can help to reduce your energy bills and your carbon footprint, while also providing a reliable source of electricity. It is worth considering whether solar panels are a good option for your home or business.