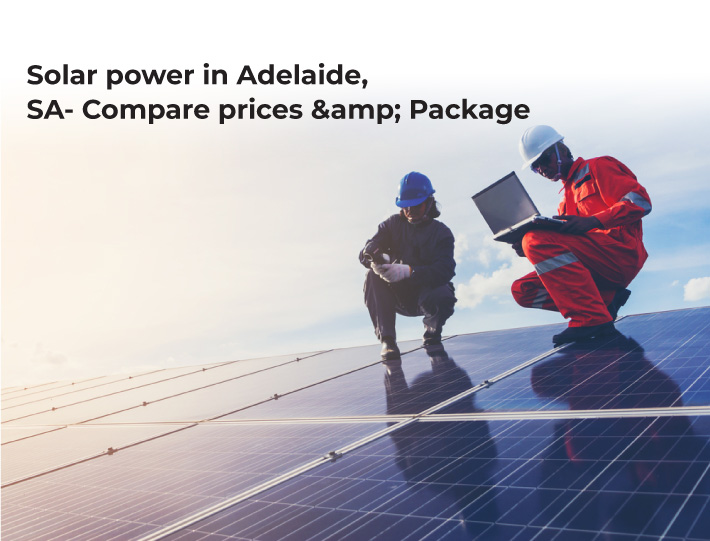 Solar power in Adelaide, SA- Compare prices & Package
Did you know that 30–40% of Adelaide homes have solar panels on their roofs? Adelaide, South Australia, is a fantastic spot for solar electricity. More and more Adelaide households and companies are switching to solar energy because electricity prices are higher than ever and the cost of solar power is at historic lows. iGreen Energy is a top Solar Installers Adelaide. The fundamentals of solar system Adelaide by iGreen Energy Best Solar Company Adelaide are covered in this blog.
How much electricity is generated by Solar Panels Adelaide?
Understanding what a solar PV system might provide its owner is necessary to find the best Solar Panels Adelaide. Solar panels SA can only produce power while the sun is shining, and the amount of electricity produced is based on how strong and long the sun is shining.
The table below gives an idea of the amount of energy typical household solar system Adelaide sizes should produce, assuming they are north-facing and roughly 75% efficient. Please be aware that these figures are averages and that actual energy production will be higher in the summer and lower in the winter.
Estimated Solar PV system energy yields for solar panels Adelaide

Solar system size kWh

Avg daily system output kWh

Annual output kWh

3kW

10.9 kWh

3,978 kWh

4kW

14.4 kWh

5,256 kWh

5kW

18.2 kWh

6643 kWh

7kW

24.5 kWh

8943 kWh

10kW*

36.3 kWh

13250 kWh
What do these figures for energy output mean for your house?
The figures in the table above indicate how much power your solar system Adelaide is expected to generate, but to calculate how much money you'll save with a system, you need to project how much of the solar energy you're likely to use directly rather than "exporting" into the grid.
Sizing a solar system for your home is not a precise science because solar panels are now relatively affordable throughout Australia. It instead depends on how much roof space you have, how much you can afford to spend on a system, and how much SA Power Networks will let you install.
Adelaide incentives and subsidies for solar power
Under the federal Renewable Energy Target, upfront "discounts" on system installation costs
Incentives are provided upfront by the federal government in the form of "small-scale technology certificates" (STCs). Installing a solar PV system is substantially cheaper thanks to STCs; typically, this cost reduction amounts to about 30% of the whole system cost. You won't need to do anything on your end to take advantage of this incentive; your installer should immediately apply it to the cost of your system.
Rebates offered by the City of Adelaide for solar power and energy storage
For solar PV and battery storage systems that are installed in the 5000 and 5006 postcodes and satisfy specific eligibility requirements, the City of Adelaide provides a sizable refund. The Sustainability Incentive Scheme of the City of Adelaide. Additionally, South Australia offers one of the most alluring battery incentive programs in the nation, providing eligible solar panels Adelaide clients up to $3,000.
South Australia's feed-in tariffs
A "feed-in tariff" is the term used to describe the price you are paid for any extra solar energy you produce. Currently, in South Australia, your electricity tariff is determined by your provider and the plan you are on. To compare current options, use our electricity plan comparison tool.
In today's solar households, consuming solar energy as it is generated maximizes their solar savings. By doing this, they prevent ever having to buy electricity from the grid, essentially making each kwh (kWh) of solar energy equal to one kWh of electricity bought from the grid.
What are the prices of Solar Panels Adelaide?
Australian solar system installation costs are among the lowest in the world, as was already noted. We know this because we've been tracking them with our monthly Solar PV Price Index for a few years. The price of solar has drastically decreased in recent years as production levels in Asia have dramatically increased. Australia's installation market is currently highly competitive, which is keeping margins low.
A typical 6kW solar system would cost $4,730 on average, including the STC refund and GST, according to our data from September 2022.
What is the return of Solar System Adelaide?
Payback periods for solar systems Adelaide can be pretty brief, and savings can be substantial, as shown in the table below.
Simply make sure the system you're buying is set up by a respected installer and uses high-quality components. Although lower prices aren't usually a sign of lower quality, they should still be addressed with some caution because a solar system should endure for up to 25 years with regular replacement of inverter every 7 years. In addition to the costs associated with any repairs that are not covered by the system's warranty, any system downtime will reduce savings and lengthen the payback period.
Indicative Returns for solar panels Adelaide

Solar Panel Size

Average Cost

Average Daily Energy Usage

Self Consumption Rate

Annual Savings

Payback Period

5kW

$4,580

15 kWh

40%

$884

5.1 Years

6.6kW

$5,070

20 kWh

40%

$1,172

4.3 Years

10kW

$9,110

30 kWh

40%

$1,768

5.1 Years

15kW

$13,665

45 kWh

40%

$2,652

5.1 Years
What about Adelaide's residential battery storage?
One of Australia's most alluring state-based battery refund programs is found in South Australia, where a Tesla Powerwall 2 can be purchased for as little as $2,700 thanks to this program. The refund is scaled according to the battery's size (kWh rating).
Conclusion
iGreen Energy, Solar Installers Adelaide has been the Best Solar Company Adelaide for many years according to our standards for business history, credentials, and testimonials from satisfied clients.
You can search through the solar and battery quote information on our platform for Solar Panels Adelaide and Solar System Adelaide. You can get in touch with us and we'll complete a site assessment and provide a tailored final price.