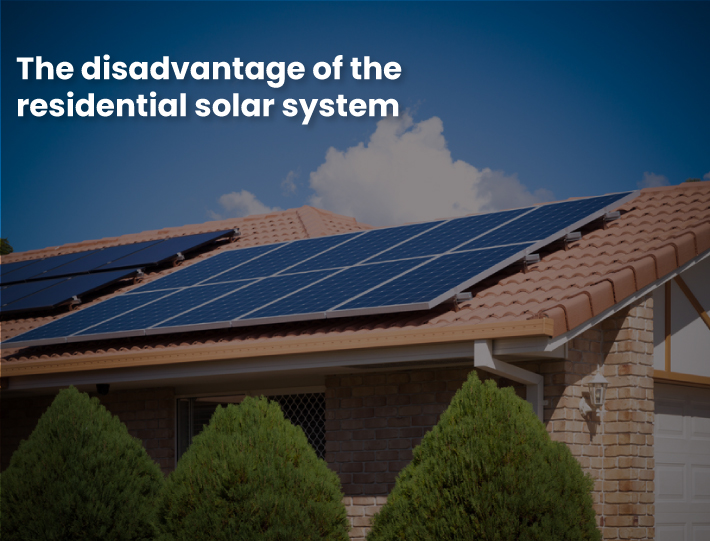 Disadvantage of Residential Solar System
Residents who install solar power systems enjoy lots of new advantages, including lower electric bills, less carbon pollution, and possibly increased home values. However, these advantages usually come at a high price in terms of installation and service, and the scale of the improvements varies greatly from one home to the next. This article will guide homeowners in conducting the required financial calculation to evaluate whether the residential solar system is viable in their houses.
Understanding Solar Power
Photovoltaic (PV) solar technology has been available since the 1950s, but it has only been considered a financially viable technique for widespread use since the turn of the millennium due to the drop in solar module prices.
The theoretical electrical output potential of solar panels is measured in watts. The usual output achieved for installed PV systems, referred to as the "capacity factor," is between 15% and 30% of the theoretical output. A 3 kWh household system with a 15% capacity factor would generate 3 kWh x 15% x 24 hours/day x 365 days/year = 3,942 kWh/year, or almost one-third of an average U.S. family's yearly electricity use. However, since there is no reason to talk of "average" results, this calculation may be deceptive; in fact, solar may make sense for one home but not for the next door. This disparity can be explained by the financial and practical factors that go into deciding viability.
Disadvantages of Residential Solar system
1. High Cost
The cost of purchasing a residential solar power system is rather expensive at first. This price includes solar panels, inverters, batteries, cabling, and installation. Nonetheless, while solar technology is continually improving, it's realistic to predict that prices will continue to drop in the future.
2. Weather-Dependent
Although solar energy can be collected during cloud cover and rainy days, the residential solar systems' efficiency is decreased. To absorb solar energy, solar panels must be exposed to sunlight. As a result, a few wet, overcast days may have a big impact on the energy system. It's also important to remember that solar energy cannot be gathered at night.
Thermodynamic panels, on the other hand, are an option worth considering if you need your water heating solution to work at night or during the winter.
3. Low Rate of Energy Conversion
Even the most advanced residential solar systems convert only around 20% to 25% of the sun's energy into electrical energy. It only goes to show how much room there is to advance technology to absorb the full power of the sun.
However, numerous factors must be considered, including the orientation of the panels and their position. However, I want to highlight that the efficiency of residential solar power systems should not be the most major factor. Particularly when the difference is only 1-2 percent. I'd be more worried about the installation or the warranties.
4. The Cost of Solar Energy Storage
Solar energy can either be used directly or stored in big batteries. These solar batteries, which are used in off-grid solar systems, may be charged during the day and used at night. This is an excellent method for utilizing solar energy during the day, but it is also extremely costly.
In most situations, it is more cost-effective to use solar energy during the day and take power from the grid at night (you can only do this if your system is connected to the grid). Fortunately, your energy need is generally higher during the day, so solar energy can supply the most of it.
5. It Covers a Large Amount of Space
You'll need more residential solar power systems if you want to generate more power because you want to capture as much sunlight as possible. Solar PV panels take up a lot of space, and some roofs aren't big enough to hold the number of panels you want.
Parts of the panels can be installed in your yard, but they must have access to sunlight. If you don't have enough room to install all of the panels you want, you can install a lower number to cover some of your power needs.
6. Associated with Pollution
Even though pollution through solar energy systems is far lower than pollution from other sources of electricity, solar energy can be linked with pollution. Greenhouse gas emissions have been connected to residential solar systems' transport and installation. During the manufacture of solar photovoltaic systems, several toxic ingredients and harmful items are utilized, which might have an indirect impact on the environment.
Solar energy, on the other side, leads to environmental pollution significantly less than other alternative sources of energy.
Conclusion
It may seem difficult to decide whether or not to install a PV solar system, but keep in mind that such a system is a long-term investment. From a financial viewpoint, residential solar power systems are a smart alternative in many places.