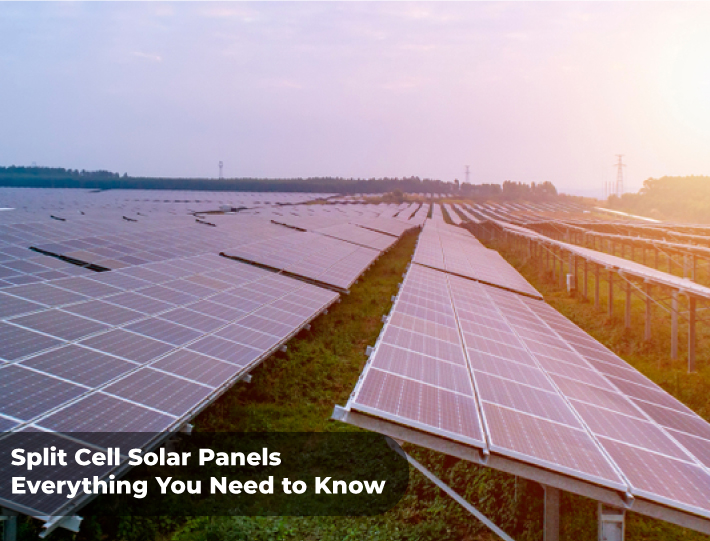 Split Cell Solar Panels: Everything You Need to Know
Around 7-8 years ago, the solar industry was simpler: most panels had 60 or 72 cells, and that was about it. While the size of modules has not increased, the number of cells has. split cell technology is the key to it. Let's go into more depth about what it is and the reasons split cell solar panels have gained so much traction.
When considering a solar installation, the idea of "more" is at the forefront to produce more energy, save more money, and do more good for the environment. Using solar panels with split cell technology can help in the case of rooftops where there is a limited amount of space available. The use of split cell solar panels can result in time and cost savings for the installer because they produce more power and are more reliable and efficient than their full-cell counterparts.
What Are Split Cell Solar Panels?
A Split cell Solar Panel Resembles Two Miniature Ones Connected by Wires.
Engineers used a laser to cut a conventional solar cell into two smaller ones to create a solar panel with half-cut cells. It's difficult since solar cell technology is frequently combined with Passivated Emitter Rear cell technology and solar cells are brittle on their own. A cell becomes more complicated and efficient thanks to PERC. In the end, we get panels with 120 and 144 cells that are the same size as conventional ones with 60 and 72 cells.
The distance between cells doesn't need to be as large because they are smaller. Engineers can divide the large module into two smaller ones, like REC did with Twinpeak. A Split Cell Solar Panel is made up of two parallel-wired modules that are housed in one unit. But what advantages do the divided cells and panel offer?
Benefits Of Split Cell Technology
Traditional silicon solar cells that have been divided in half using a laser cutter make up Split Cell Solar Panels, as their name implies. Compared to conventional solar panels, split cell solar panels offer a number of advantages.
Most significantly, solar panels with half-cut cells perform better and last longer.
Split Cell Solar Panels have the ability to marginally improve panel efficiency.
Compared to full-cell modules, you can get 3-4% more energy.
Technology with half-cut cells is more shade-resistant.
In addition to having higher production rates, Split Cell Solar Panels are also stronger physically than their conventional counterparts; their smaller size makes them less prone to cracking.
Due to these benefits, Split Cell Solar Panels could help property owners who install solar energy systems achieve solar payback periods more quickly.
Conclusion
Split cell Technology is the next development in solar panels. Split Cell Solar Panels do cost more initially, but their return on investment is quicker! Therefore, this cutting-edge technology for PERC and half-cut cells may soon become the norm in the sector. Top-tier brand engineers strive to get the most energy possible from a cell, so the 3% power boost that a half-cut cell design provides is significant. Brands that resist modernization and technological adoption run the risk of slipping too far behind.